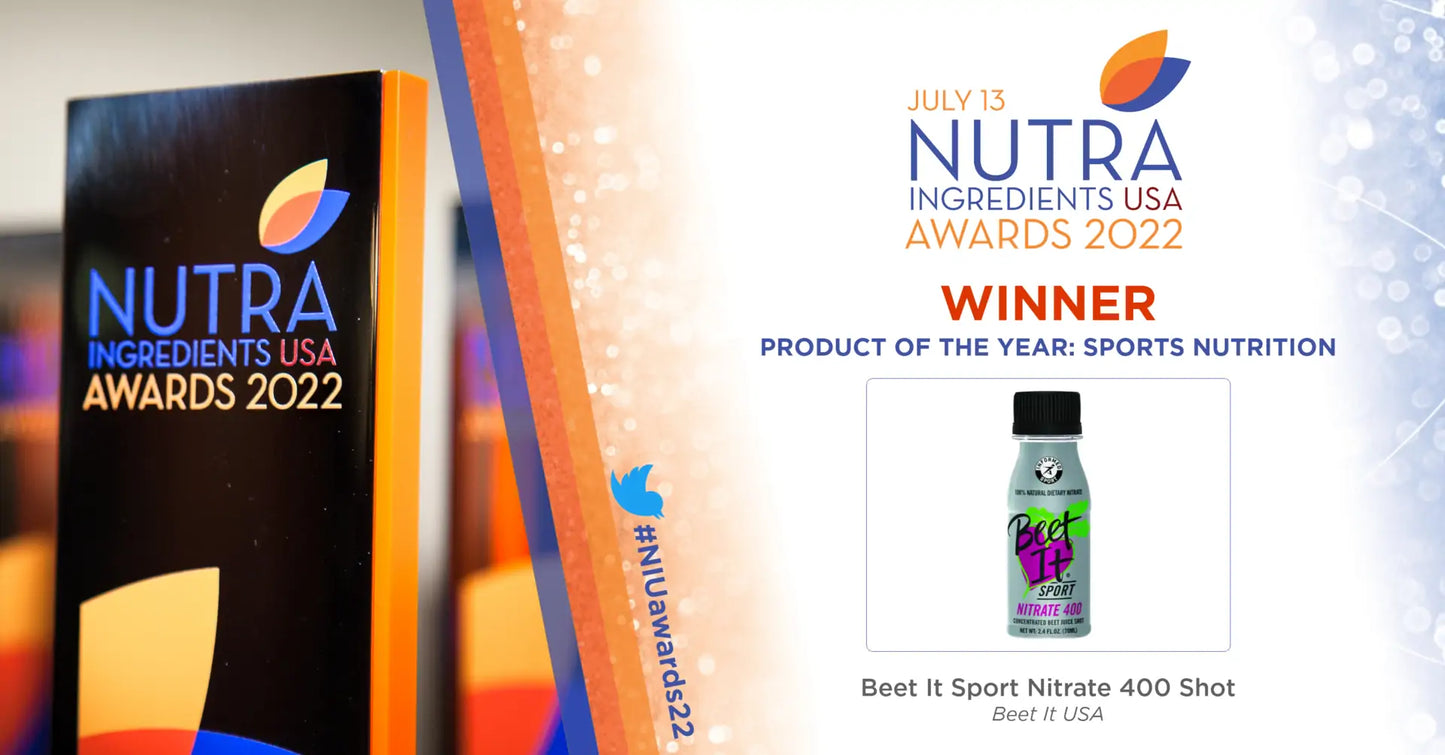 Beet It Sport wins Product of the Year at the 2022 NUTRA ingredients USA awards
NutraIngredients-USA revealed the winners of this year's awards on Wednesday, July 13. The 2022 NutraIngredients-USA Awards, now in its fifth year, recognise the best and brightest in ingredients, finished products, companies, people, and initiatives in the nutrition and dietary supplement industries.
Our Beet It Sport Nitrate 400 shot was nominated for product of the year – sports nutrition. This award celebrates the best branded or own-label supplements, functional foods and beverages positioned to enhance athletic performance and recovery.
A broad range of products were assessed by an expert panel of industry judges. After much deliberation, the Beet It Sport Nitrate 400 shot was declared the winner.
Stephen Daniells, PhD, Editor-in-Chief of NutraIngredients-USA, commented: "The judges were impressed by the human performance research, which really set Beet It Sport Nitrate 400 Shot apart as a category leader. The judges also praised its commercial achievements, delivery system, quality control, and efficacious doses. With proven research and market success over the last decade, one judge referred to Beet It as "The Original Gangster of nitrate oxide."
We are ecstatic to accept yet another award for our Beet It product. Our Beet It Sport Nitrate 400 shot is the only concentrated beetroot juice product on the market that consistently contains an optimum dose of dietary nitrate per serving, according to scientific evidence (400mg per 70ml). This is one of the many reasons why our product has been awarded this prestigious prize.
Try it for yourself today, head over to our shop https://beet-it.com/product/beet-it-sport-shot/.
To find out more about the NUTRA ingredients USA awards and all of the other well deserving winners read the awards brochure https://nutraingredientsusa-awards.com/live/en/page/brochure